Description
What does it mean to live deliberately?
Learn how to live deliberately.
To live deliberately is to live consciously and with intention.

Being aware of our choices and the beliefs, habits and behaviours that drive them.
From How to live deliberately by Claire Cutler-Casey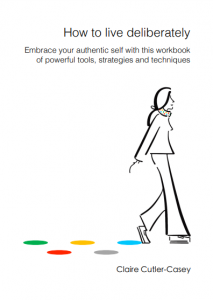 How to live deliberately is a practical and thought provoking compendium of powerful tool, strategies and techniques.  The content is thoughtfully created so you can explore your drives, belief and motivations, making it easier to reveal your authentic self.
As a result you can make informed choices and decisions, particularly in periods of change, leading to a more fulfilling and rewarding life.
Find out more about How to live deliberately
Learn how to live deliberately
This 120 page workbook is a valuable guide and companion.  To begin with you can use it as a life audit, moving at your own pace, eventually using it to develop new strategies to negotiate the challenges you face.
Alongside the activities you'll find interesting insights to unravel the mystery of you.  You'll gain a deeper, more profound understanding of who you are, the choices you make and what truly matters, making it easier to pursue what you love.
Use the carefully constructed strategies and techniques to enhance whole brain thinking. When your right and left hemispheres work together the result is reduced anxiety and increased creativity.
Tranquility, harmony and creativity make your life a place you really want to be.
Deliberately embrace the power around you
Learn how to work together with the cycle of  "idea – plan – action – reward and release".
You will discover what blocks you and how to move past it by unleashing the natural power of you.
Increase your purpose, energy and motivation to pursue your dreams and ideas, so you feel calmer and more in control.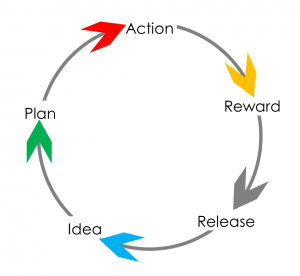 You can use the practical insights to  make changes at the best time.  As a rule, using the natural forces around you adds extra impetus to all your efforts, making it easier to get where you want to be sooner, without effort, friction or force.
Start living deliberately
You will learn how to develop and maintain life changing habits making it easier to embrace that future you keep promising yourself but, somehow, remains just beyond your reach.
Grab some colouring pens and indulge your self with time to colour.  Enjoy  the beautiful illustrations, finally giving your creativity time, space and permission to play.  Together with the other strategies you feel calmer and less anxious.
How does 'How to live deliberately' work?
How to live deliberately is divided into 14 sections
Each containing a mixture of
Informative insights
Practical techniques
Constructive strategies
Making it easy to navigate and simple to use.
Each page has prompts and spaces to record your thoughts, realisations and ideas with clear instructions. In short, use the structure to support your own personal journey.
Pick it up and put it down as you wish or work through it regularly.  By consciously respecting your own process you will gain deeper more profound results, in particular, a greater understanding of yourself.